Jungheinrich Mid-Size Pneumatic Forklift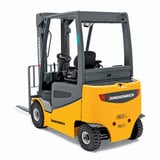 Name
Jungheinrich Mid-Size Pneumatic Forklift
Featured Image


Link
/jungheinrich-efg-425-s30
Fuel Type
Electric

Application
Warehouse
Indoor & Outdoor

Tires
Pneumatic

Lift Capacity
4,001 - 6,000
6,001 - 8,000

Brand
Jungheinrich

Content

The EFG 425-S30 from Jungheinrich is an electric 4-wheel counterbalanced forklift with a capacity range from 5,000 - 6,500 lbs. Made with the newest generation of 3-phase AC technology, enjoy maximum throughput with high acceleration, travel and lift speeds, minimal energy consumption due to high efficiency and energy recovery, and minimal service costs due to the reduction of mechanical and hydraulic components. Regardless of your operation, this highly versatile truck is designed to handle any indoor or outdoor applications.

Key Benefits:

Guaranteed to run two shifts on one battery charge
High performance and high energy efficiency with 4th gen AC technology
Ergonomic and easily adjustable operator compartment
soloPILOT or multiPILOT integrated into the adjustable armrest based on your needs
Sealed components to help protect against dust and moisture

Find out for how the Jungheinrich EFG 425-S30 electric 4-wheel counterbalanced forklift can improve your operation! Buy, Rent, Lease, or Demo today from Fallsway Equipment Company!

Have a question? Contact us today!

Form

Meta Description
5,000 - 6,500 lb capacity electric 4-wheel pneumatic forklift from Jungheinrich. Equipment Sales, Service, Parts, and Rentals from Fallsway Equipment.
Downloads
Jungheinrich EFG 425 - S30 Brochure
The EFG 425-S30 from Jungheinrich is an electric 4-wheel counterbalanced forklift with a capacity range from 5,000 - 6,500 lbs. Made with the newest generation of 3-phase AC technology, enjoy maximum throughput with high acceleration, travel and lift speeds, minimal energy consumption due to high efficiency and energy recovery, and minimal service costs due to the reduction of mechanical and hydraulic components. Regardless of your operation, this highly versatile truck is designed to handle any indoor or outdoor applications.
Key Benefits:
Guaranteed to run two shifts on one battery charge
High performance and high energy efficiency with 4th gen AC technology
Ergonomic and easily adjustable operator compartment
soloPILOT or multiPILOT integrated into the adjustable armrest based on your needs
Sealed components to help protect against dust and moisture
Find out for how the Jungheinrich EFG 425-S30 electric 4-wheel counterbalanced forklift can improve your operation! Buy, Rent, Lease, or Demo today from Fallsway Equipment Company!
Have a question? Contact us today!
Equipment Information Request