Jungheinrich 3-Wheel Pneumatic Forklift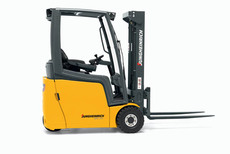 Name
Jungheinrich 3-Wheel Pneumatic Forklift
Featured Image


Link
/jungheinrich-efg-213-220
Fuel Type
Electric

Application
Warehouse
Indoor & Outdoor

Tires
Pneumatic

Lift Capacity
2,000 - 4,000

Brand
Jungheinrich

Content

The EFG 213-220 three-wheel trucks have a twin wheel which provides you with ease of maneuverability and a max lift capacity ranging from 2,500 to 4,000 lbs.

The latest generation of our three-wheel lift trucks with three-phase AC drive systems set the standard for high performance:

Energy-efficient with up to two shifts / one battery charge run time
Side battery access
Electric steering
soloPILOT, duoPILOT and multiPILOT electronic controls
Innovative battery management
Driver assistance systems
Five adjustable performance modes
Automatic parking brake
Available in 36 and 48 voltages

Available for Purchase, Lease, Rent, or Demo from Fallsway Equipment Company!

Have a question? Contact us today!

Form

Meta Description
2,500 - 4,000 lb. capacity electric three-wheel pneumatic forklifts from Jungheinrich. Warehouse equipment sales, service, and support from Fallsway.
Downloads
EFG 213-220/316k-320 Information Brochure
EFG 213-220/316k-320 Spec Sheet
The EFG 213-220 three-wheel trucks have a twin wheel which provides you with ease of maneuverability and a max lift capacity ranging from 2,500 to 4,000 lbs.
The latest generation of our three-wheel lift trucks with three-phase AC drive systems set the standard for high performance:
Energy-efficient with up to two shifts / one battery charge run time
Side battery access
Electric steering
soloPILOT, duoPILOT and multiPILOT electronic controls
Innovative battery management
Driver assistance systems
Five adjustable performance modes
Automatic parking brake
Available in 36 and 48 voltages
Available for Purchase, Lease, Rent, or Demo from Fallsway Equipment Company!
Have a question? Contact us today!
Equipment Information Request