Jungheinrich Center Control Rider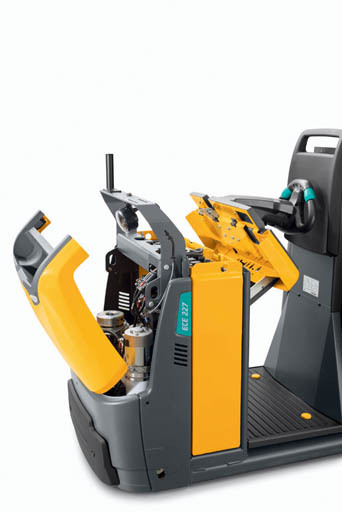 Name
Jungheinrich Center Control Rider
Featured Image


Link
/jungheinrich-ece-227-236xl-na
Fuel Type
Electric

Lift Capacity
6,001 - 8,000

Brand
Jungheinrich

Content

Optimize the cost and speed of your order picking with the latest technologies and ergonomic design of the Jungheinrich ECE 227 / 236 XL NA Center-control rider (6,000; 8,000 lbs.).

What can you expect from this model?

AC electric motor provides powerful torque and fast acceleration
easyPILOT Follow provides the best performance with semi-automated control
jetPILOT electric steering wheel provides for comfortable steering for any operator
curveCONTROL automatically slows speed when traveling through curves
An extensive variety of accessories for individual customization

Available for Purchase, Lease, Rent, or Demo!

Have a question? Contact us today!

Form

Meta Description
Center-Control Rider (6,000; 8,000 lbs.) from Jungheinrich. Available for purchase, lease, or demo from Fallsway Equipment.
Downloads
ECE 227 / 236XL NA
Optimize the cost and speed of your order picking with the latest technologies and ergonomic design of the Jungheinrich ECE 227 / 236 XL NA Center-control rider (6,000; 8,000 lbs.).
What can you expect from this model?
AC electric motor provides powerful torque and fast acceleration
easyPILOT Follow provides the best performance with semi-automated control
jetPILOT electric steering wheel provides for comfortable steering for any operator
curveCONTROL automatically slows speed when traveling through curves
An extensive variety of accessories for individual customization
Available for Purchase, Lease, Rent, or Demo!
Have a question? Contact us today!
Equipment Information Request