JLG R4045 Scissor Lift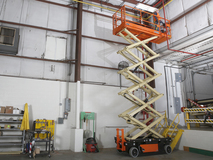 Name
JLG R4045 Scissor Lift
Featured Image


Link
/jlg-r4045-scissor-lift
Fuel Type
Electric

Platform Height
40' - 49'
Application
Rough-Terrain
Smooth Surface

Brand
JLG

Condition
New
Content

THE JLG R4045 Scissor Lift

Key specs include a machine width of 3 ft 9 inches and a working height of 45 ft 3 inches.

Key features include a narrow 45 in width, simplified design with active pothole protection, and a rugged all steel-platform that meets the demands of any job.

Available for Purchase, Lease, Rent, or Demo!

Have a question? Contact us today!

Form

Meta Description
JLG R4045 | Simplified, Reliable Design
Downloads
R4045 Spec Sheet
THE JLG R4045 Scissor Lift
Key specs include a machine width of 3 ft 9 inches and a working height of 45 ft 3 inches.
Key features include a narrow 45 in width, simplified design with active pothole protection, and a rugged all steel-platform that meets the demands of any job.
Available for Purchase, Lease, Rent, or Demo!
Have a question? Contact us today!
Equipment Information Request