JLG R2632 Scissor Lift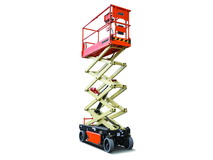 Name
JLG R2632 Scissor Lift
Featured Image


Link
/jlg-r2632-scissor-lift
Fuel Type
Electric

Platform Height
20' - 29'
Application
Rough-Terrain
Smooth Surface

Brand
JLG

Condition
New
Content

The JLG r2632 Scissor LIft

Key specs include a platform height of 25 ft 6 in, a machine width of 2 ft 8 in, and a working height of 31 ft 6 inches.

Key features include an extensive industry-exclusive reach of up to 19 ft, the highest standards (A92 20 ANSI regulations), and the ability to pass through single doorways.

Available for Purchase, Lease, Rent, or Demo!

Have a question? Contact us today!

Form

Meta Description
JLG R2632 | Reach More in Difficult Situations!
Downloads
R2632 Spec Sheet
The JLG r2632 Scissor LIft
Key specs include a platform height of 25 ft 6 in, a machine width of 2 ft 8 in, and a working height of 31 ft 6 inches.
Key features include an extensive industry-exclusive reach of up to 19 ft, the highest standards (A92 20 ANSI regulations), and the ability to pass through single doorways.
Available for Purchase, Lease, Rent, or Demo!
Have a question? Contact us today!
Equipment Information Request