JLG H600SJ Telescopic Boom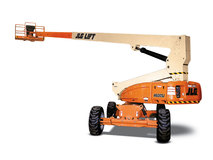 Name
JLG H600SJ Telescopic Boom
Featured Image


Link
/jlg-h600sj-telescopic-boom
Boom Type
Telescopic Boom Lift

Condition
New
Content

The JLG H600SJ

Key specs include a platform height of 60 ft, platform capacity of 500 lbs, and machine width of 7 ft 11 inches.

Key features include being the tallest electric boom in the industry, best in class productivity with longer battery cycles, and environmentally friendly emissions.

Available for Purchase, Lease, Rent, or Demo!

Have a question? Contact us today!

Form

Meta Description
JLG H600SJ | H600SJ Electric Boom Lift
Downloads
H600SJ Spec Sheet
The JLG H600SJ
Key specs include a platform height of 60 ft, platform capacity of 500 lbs, and machine width of 7 ft 11 inches.
Key features include being the tallest electric boom in the industry, best in class productivity with longer battery cycles, and environmentally friendly emissions.
Available for Purchase, Lease, Rent, or Demo!
Have a question? Contact us today!
Equipment Information Request