JLG 1255 Telehandler | 12,000 lb Capacity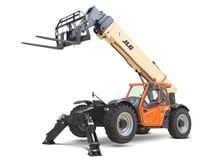 Name
JLG 1255 Telehandler | 12,000 lb Capacity
Featured Image


Link
/jlg-1255th
Fuel Type
Diesel

Lift Capacity
12,001 - 15,000

Brand
JLG

Content

The JLG 1255 telehandler has a 12,000 lb max lift capacity and 55' max lift height.

Key Features:

Enhanced operator comfort—spacious cab, intuitive single joystick, and integrated armrest
Maximum serviceability— extended service intervals, easy-to-access parts, and durable components for the less overall maintenance
Greater operator confidence— better visibility, Stabil-Trak rear axle stabilization, precision gravity lowering system, optional reverse sensing system and reversing camera
Increased versatility—a wide range of attachment options

Available for Purchase, Lease, Rent, or Demo!

Have a question? Contact us today!

Form

Meta Description
The JLG 1255 telehandler has a 12,000 lb capacity, a 55' max lift height, and is capable of handling any job! Learn more at Fallsway.com
Downloads
JLG 1255TH Spec Sheet
The JLG 1255 telehandler has a 12,000 lb max lift capacity and 55' max lift height.
Key Features:
Enhanced operator comfort—spacious cab, intuitive single joystick, and integrated armrest
Maximum serviceability— extended service intervals, easy-to-access parts, and durable components for the less overall maintenance
Greater operator confidence— better visibility, Stabil-Trak rear axle stabilization, precision gravity lowering system, optional reverse sensing system and reversing camera
Increased versatility—a wide range of attachment options
Available for Purchase, Lease, Rent, or Demo!
Have a question? Contact us today!
Equipment Information Request