JGL M4069LE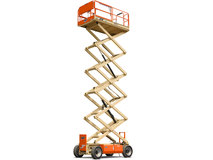 Name
JGL M4069LE
Featured Image


Link
/jgl-m4069le
Fuel Type
Electric

Platform Height
40' - 49'
Application
Rough-Terrain

Brand
JLG

Condition
New
Content

THE JGL m4069LE Scissor lift

Key specs include a platform height of 40 ft, platform capacity of 800 lbs, and machine width of 5 ft 9 inches.

Key features include superior performance on the slab or off, rugged terrain tires, and double the battery length of any other scissor lift.

Available for Purchase, Lease, Rent, or Demo!

Have a question? Contact us today!

Form

Meta Description
JLG M4609LE | Superior Performance on and off the slab
Downloads
THE JGL m4069LE Scissor lift
Key specs include a platform height of 40 ft, platform capacity of 800 lbs, and machine width of 5 ft 9 inches.
Key features include superior performance on the slab or off, rugged terrain tires, and double the battery length of any other scissor lift.
Available for Purchase, Lease, Rent, or Demo!
Have a question? Contact us today!
Equipment Information Request