CAT Mid-Size IC Pneumatic Forklift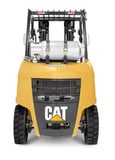 Name
CAT Mid-Size IC Pneumatic Forklift
Featured Image


Link
/gp-dp40n-gp-dp55n
Fuel Type
Gas

Application
Indoor & Outdoor

Tires
Pneumatic

Lift Capacity
8,001 - 10,000
10,001 - 12,000

Brand
CAT

Content

CAT Mid-Size IC Pneumatic Forklift (GP40N - GP55N) has a max lift capacity of 8,000 - 12,000 lbs.

Strength that you can depend on and built to perform, the Cat GP40N-GP55N is designed to operate in tough environments. Equipped with a powerful engine and durable mast, enjoy the rugged performance you need to get the job done.

ADVANTAGES TO YOU

Delivers a 21.6% increase in fuel efficiency* for lower overall fuel costs and greater performance
Controlled, yet powerful acceleration maximizes productivity
500-hour extended service intervals result in less maintenance for increased uptime
Emission levels are well below the Environmental Protection Agency (EPA) Tier 4 final requirements
World-class service and support provided by the best dealer network in the industry

Please fill out the form below to learn more about the CAT GP40N-GP55N 8,000 - 12,000 LB. Capacity Internal Combustion Pneumatic Tire Lift Truck!

Have a question? Contact us today!

Form

Meta Description
CAT Mid-Size IC Pneumatic Forklift | GP40N - GP55N | Fallsway Equipment Company
Downloads
GP40N-GP55N Information Brochure
CAT Mid-Size IC Pneumatic Forklift (GP40N - GP55N) has a max lift capacity of 8,000 - 12,000 lbs.
Strength that you can depend on and built to perform, the Cat GP40N-GP55N is designed to operate in tough environments. Equipped with a powerful engine and durable mast, enjoy the rugged performance you need to get the job done.
ADVANTAGES TO YOU
Delivers a 21.6% increase in fuel efficiency* for lower overall fuel costs and greater performance
Controlled, yet powerful acceleration maximizes productivity
500-hour extended service intervals result in less maintenance for increased uptime
Emission levels are well below the Environmental Protection Agency (EPA) Tier 4 final requirements
World-class service and support provided by the best dealer network in the industry
Please fill out the form below to learn more about the CAT GP40N-GP55N 8,000 - 12,000 LB. Capacity Internal Combustion Pneumatic Tire Lift Truck!
Have a question? Contact us today!
Equipment Information Request