Mitsubishi 3-Wheel Electric Forklift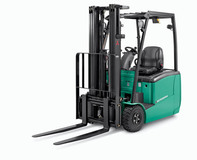 Name
Mitsubishi 3-Wheel Electric Forklift
Featured Image


Link
/fb16pnt-fb20pnt
Fuel Type
Electric

Application
Indoor & Outdoor

Tires
Pneumatic

Lift Capacity
2,000 - 4,000

Brand
Mitsubishi

Content

Powerful performance meets compact design with the 3,000 - 4,000 lb capacity 3-wheel pneumatic tire electric forklift from Mitsubishi.

1. Powerful
Excellent Performance Heavy-duty AC drive and hydraulic motors, along with powerful Mitsubishi PM-1000 controllers, provide outstanding performance levels.

2. Durable Outdoor Applications
These forklifts come equipped with sealed motors for added protection from contaminants, such as dust and moisture, allowing the forklift to thrive in both indoor and outdoor applications.

3. Added Security
Controlled Cornering as the forklift's steer angle increases, the Controlled Cornering Speed feature progressively reduces the speed of the forklift, providing added security to both the operator and the load.

Fallsway Equipment proudly represents Mitsubishi Lift Trucks for equipment, service, and support in 22 counties across Ohio, Pennsylvania, and West Virginia. Mitsubishi 3-Wheel Electric Forklift available for Purchase, Lease, Rent, or Demo!

Have a question? Contact us today!

Form

Meta Description
Mitsubishi 3-Wheel Electric Forklift | FB16PNT-FB20PNT | Fallsway Equipment Company
Downloads
FB16PNT-FB20PNT Information Brochure
Powerful performance meets compact design with the 3,000 - 4,000 lb capacity 3-wheel pneumatic tire electric forklift from Mitsubishi.
1. Powerful
Excellent Performance Heavy-duty AC drive and hydraulic motors, along with powerful Mitsubishi PM-1000 controllers, provide outstanding performance levels.
2. Durable Outdoor Applications
These forklifts come equipped with sealed motors for added protection from contaminants, such as dust and moisture, allowing the forklift to thrive in both indoor and outdoor applications.
3. Added Security
Controlled Cornering as the forklift's steer angle increases, the Controlled Cornering Speed feature progressively reduces the speed of the forklift, providing added security to both the operator and the load.
Fallsway Equipment proudly represents Mitsubishi Lift Trucks for equipment, service, and support in 22 counties across Ohio, Pennsylvania, and West Virginia. Mitsubishi 3-Wheel Electric Forklift available for Purchase, Lease, Rent, or Demo!
Have a question? Contact us today!
Equipment Information Request