Mitsubishi Pantograph Reach Truck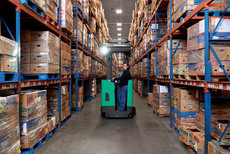 Name
Mitsubishi Pantograph Reach Truck
Featured Image


Link
/esr15n2-edr18n2
Lift Capacity
2,000 - 4,000
4,001 - 6,000

Brand
Mitsubishi

Content

3,000 - 4,500 lb capacity pantograph reach truck from Mitsubishi.

A new level of performance is within your reach.

Runs up to two shifts on one battery charge*
Dynamic lift speeds – up to 165 ft. / minute
Efficient design, advanced AC technology
Lower total cost of ownership

Advanced Technology, Advanced Performance, AC technology is integrated into the reach truck design for even greater efficiency and productivity.

Your business will benefit from:

Low energy consumption
Longer run times
Powerful acceleration
Leading lift speeds
Excellent energy management
Smooth directional changes
Less maintenance

Available for Purchase, Lease, Rent, or Demo!

Have a question? Contact us today!

Form

Meta Description
3,000 - 4,500 lb capacity Mitsubishi pantograph reach truck. Available for purchase, lease, or demo from Fallsway Equipment.
Downloads
ESR15N2-EDR18N2 Information Brochure
3,000 - 4,500 lb capacity pantograph reach truck from Mitsubishi.
A new level of performance is within your reach.
Runs up to two shifts on one battery charge*
Dynamic lift speeds – up to 165 ft. / minute
Efficient design, advanced AC technology
Lower total cost of ownership
Advanced Technology, Advanced Performance, AC technology is integrated into the reach truck design for even greater efficiency and productivity.
Your business will benefit from:
Low energy consumption
Longer run times
Powerful acceleration
Leading lift speeds
Excellent energy management
Smooth directional changes
Less maintenance
Available for Purchase, Lease, Rent, or Demo!
Have a question? Contact us today!
Equipment Information Request