CAT Mid/Large Diesel Pneumatic Forklift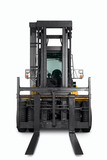 Name
CAT Mid/Large Diesel Pneumatic Forklift
Featured Image


Link
/dp70n1
Fuel Type
Diesel

Application
Rough Terrain
Indoor & Outdoor

Tires
Pneumatic

Lift Capacity
15,001 - 20,000

Brand
CAT

Content

The Cat Lift Trucks mid/large diesel pneumatic forklift (DP70N1 Series) has a max lift capacity of 15,500 lbs.

Real Power, Real Performance

Built For Your Business, the Cat DP70N1 pneumatic tire lift truck offers proven reliability and durability, combined with the strength and stability you need to get the job done. Equipped with the high-performance Perkins 854F 3.4L engine, this lift truck offers increased fuel efficiency, reduced emissions, and a lower overall operating cost.

ADVANTAGES TO YOU:

Controlled, yet powerful acceleration maximizes productivity.
An 18% increase* in fuel efficiency, resulting in greater annual cost savings.
500-hour extended service intervals mean less downtime and maintenance costs.
World-class service and support provided by the best dealer network in the industry.
Emission levels well below the Environmental Protection Agency (EPA) Tier 4 Final requirements.

Available for Purchase, Lease, Rent, and Demo!

Have a question? Contact us today!

Form

Meta Description
15,500 lb. diesel pneumatic tire forklift from CAT Lift Trucks. Forklift sales, service, parts, rentals from Fallsway Equipment Company.
Downloads
DP70N1 Information Brochure
The Cat Lift Trucks mid/large diesel pneumatic forklift (DP70N1 Series) has a max lift capacity of 15,500 lbs.
Real Power, Real Performance
Built For Your Business, the Cat DP70N1 pneumatic tire lift truck offers proven reliability and durability, combined with the strength and stability you need to get the job done. Equipped with the high-performance Perkins 854F 3.4L engine, this lift truck offers increased fuel efficiency, reduced emissions, and a lower overall operating cost.
ADVANTAGES TO YOU:
Controlled, yet powerful acceleration maximizes productivity.
An 18% increase* in fuel efficiency, resulting in greater annual cost savings.
500-hour extended service intervals mean less downtime and maintenance costs.
World-class service and support provided by the best dealer network in the industry.
Emission levels well below the Environmental Protection Agency (EPA) Tier 4 Final requirements.
Available for Purchase, Lease, Rent, and Demo!
Have a question? Contact us today!
Equipment Information Request