CAT Small Diesel Pneumatic Forklift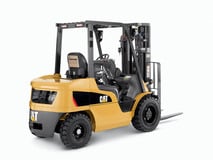 Name
CAT Small Diesel Pneumatic Forklift
Featured Image


Link
/cat-small-diesel-pneumatic-forklift
Fuel Type
Diesel

Application
Rough Terrain

Tires
Pneumatic

Lift Capacity
2,000 - 4,000
4,001 - 6,000
6,001 - 8,000

Brand
CAT

Content

3,000 - 7,000 lb. capacity diesel pneumatic tire forklifts from CAT Lift Truck are designed for optimum control.

The DP15N-DP35N series has the same quality, power, and performance you can expect with CAT, but with a new design that offers optimized visibility, increased awareness, and premium ergonomics.

CAT Small Diesel Pneumatic forklifts are available to buy, rent, lease, or demo from Fallsway Equipment Company, your CAT Dealer for 22 counties across Ohio, Pennsylvania, and West Virginia.

Have a question? Contact us today!

Form

Meta Description
4,000 - 7,000 lb. capacity diesel pneumatic tire forklifts from CAT Lift Trucks. Material handling equipment, service, and solutions from Fallsway.
Downloads
CAT Small Diesel Pneumatic Tire Forklift | DP20N-DP35N | Fallsway Equipment
3,000 - 7,000 lb. capacity diesel pneumatic tire forklifts from CAT Lift Truck are designed for optimum control.
The DP15N-DP35N series has the same quality, power, and performance you can expect with CAT, but with a new design that offers optimized visibility, increased awareness, and premium ergonomics.
CAT Small Diesel Pneumatic forklifts are available to buy, rent, lease, or demo from Fallsway Equipment Company, your CAT Dealer for 22 counties across Ohio, Pennsylvania, and West Virginia.
Have a question? Contact us today!
Equipment Information Request