CAT Mid-Size Diesel Pneumatic Forklift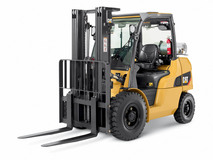 Name
CAT Mid-Size Diesel Pneumatic Forklift
Featured Image


Link
/cat-mid-size-diesel-pneumatic-forklift
Fuel Type
Diesel

Application
Rough Terrain

Tires
Pneumatic

Lift Capacity
8,001 - 10,000
10,001 - 12,000

Brand
CAT

Content

8,000 - 12,000 lb. capacity diesel pneumatic tire rough terrain forklifts from CAT provide more power and more performance than the competition.

The DP40N-DP55N Series features a top-end engine that guarantees you more uptime, less operator fatigue, and lower overall operating costs.

CAT Mid-Size Diesel Pneumatic Forklifts for sale, rent, lease, or demo from Fallsway, your partner for material handling equipment, service, and solutions.

Have a question? Contact us today!

Form

Meta Description
8,000 - 12,000 lb. capacity diesel pneumatic tire rough terrain forklifts from CAT. Lift Trucks Sales, Service, Parts, and Rentals from Fallsway.
Downloads
CAT Mid-Size Diesel Pneumatic Forklift | DP40N-DP55N | Fallsway
8,000 - 12,000 lb. capacity diesel pneumatic tire rough terrain forklifts from CAT provide more power and more performance than the competition.
The DP40N-DP55N Series features a top-end engine that guarantees you more uptime, less operator fatigue, and lower overall operating costs.
CAT Mid-Size Diesel Pneumatic Forklifts for sale, rent, lease, or demo from Fallsway, your partner for material handling equipment, service, and solutions.
Have a question? Contact us today!
Equipment Information Request