CAT Small IC Pneumatic Forklift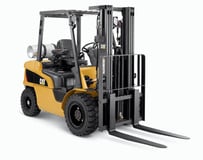 Name
CAT Small IC Pneumatic Forklift
Featured Image


Link
/cat-gp15n-gp35n
Fuel Type
Diesel
LP Gas

Application
Indoor & Outdoor

Tires
Pneumatic

Lift Capacity
2,000 - 4,000
4,001 - 6,000
6,001 - 8,000

Brand
CAT

Content

PROVEN TO WORK HARDER

Experience A New Level Of Productivity.
Give your business a lift in productivity – by 10% with the Cat® 3,000 - 7,000 lb. IC pneumatic tire lift truck series. Proven to move 10,400 more loads per year than the leading competition*, this series pushes through the hardest workdays to help you move more – all day, every day.

ADVANTAGES TO YOU

3,000 – 7,000 lb. lift capacities
Excellent travel speeds and powerful acceleration for greater productivity
Superior lift and lower speeds result in lower cycle times
Emission levels measure well below the Environmental Protection Agency (EPA) Tier 4 final requirements
World-class service and support provided by the best dealer network in the industry

Available for Purchase, Lease, Rent!

Have a question? Contact us today!

Form

Meta Description
3,000 - 7,000 lb Internal Combustion Pneumatic Tire Forklifts from CAT Lift Trucks. Proven to work harder and proven to increase productivity
Downloads
GP15N-FP35N Information Brochure
PROVEN TO WORK HARDER
Experience A New Level Of Productivity.
Give your business a lift in productivity – by 10% with the Cat® 3,000 - 7,000 lb. IC pneumatic tire lift truck series. Proven to move 10,400 more loads per year than the leading competition*, this series pushes through the hardest workdays to help you move more – all day, every day.
ADVANTAGES TO YOU
3,000 – 7,000 lb. lift capacities
Excellent travel speeds and powerful acceleration for greater productivity
Superior lift and lower speeds result in lower cycle times
Emission levels measure well below the Environmental Protection Agency (EPA) Tier 4 final requirements
World-class service and support provided by the best dealer network in the industry
Available for Purchase, Lease, Rent!
Have a question? Contact us today!
Equipment Information Request