CAT Mid-Size IC Cushion Forklift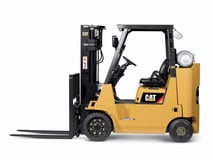 Name
CAT Mid-Size IC Cushion Forklift
Featured Image


Link
/cat-gc35k-gc70k
Fuel Type
Diesel
LP Gas

Application
Warehouse

Tires
Cushion

Lift Capacity
6,001 - 8,000
8,001 - 10,000
12,001 - 15,000
10,001 - 12,000

Brand
CAT

Content

The CAT Mid-Size IC Cushion Forklift (GC35K - GC70K) has a max lift capacity of 7,000 - 15,500 lbs.

UNCOMPROMISING PERFORMANCE

Powered by a tough PSI 4X 4.3 liter V6 EPA compliant engine, the Cat GC35KGC70K series of cushion tire lift trucks is built to handle multiple jobs in a variety of applications. From off-loading trailers to moving goods in and out of racking, these highly-configurable and flexible lift trucks offer robust performance and reliability to your business demands, while featuring practical options and attachments to enhance this truck's dexterity.

Available for Purchase, Lease, Rent, or Demo!

Have a question? Contact us today!

Form

Meta Description
7,000 - 15,500 lb. capacity internal combustion cushion tire forklift. Available for Purchase, Lease, Rent, or Demo from Fallsway Equipment
Downloads
GC35K/GC70K Information Brochure
The CAT Mid-Size IC Cushion Forklift (GC35K - GC70K) has a max lift capacity of 7,000 - 15,500 lbs.
UNCOMPROMISING PERFORMANCE
Powered by a tough PSI 4X 4.3 liter V6 EPA compliant engine, the Cat GC35KGC70K series of cushion tire lift trucks is built to handle multiple jobs in a variety of applications. From off-loading trailers to moving goods in and out of racking, these highly-configurable and flexible lift trucks offer robust performance and reliability to your business demands, while featuring practical options and attachments to enhance this truck's dexterity.
Available for Purchase, Lease, Rent, or Demo!
Have a question? Contact us today!
Equipment Information Request