CAT Small Electric Pneumatic Forklift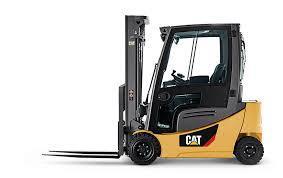 Name
CAT Small Electric Pneumatic Forklift
Featured Image


Link
/cat-epc3000-ep4000
Fuel Type
Electric

Application
Indoor & Outdoor

Tires
Pneumatic

Lift Capacity
2,000 - 4,000

Brand
CAT

Content

A POWERFUL SOLUTION

Maximum Performance: Shift After Shift. The CAT Small Electric Pneumatic Forklift Series (EPC3000 - EP4000) is designed for efficiency and performance with a max lifting capacity of 3,000 - 4,000 lbs. Featuring advanced AC technology, this series offers longer run times - up to two shifts on one battery charge - for greater operator productivity.

ADVANTAGES TO YOU

Flexible use, indoors and out – with the ability to lift up to 4,000 lbs.
Low maintenance – sealed components provide added protection from dust, debris, and moisture.
Zero harmful emissions – electric lift trucks offer a cleaner working environment and eliminate fuel costs.

Available for Purchase, Lease, Rent!

Have a question? Contact us today!

Form

Meta Description
The EPC3000-EP4000 Series is a 3,000 - 4,000 lb. capacity electric pneumatic tire forklift from CAT Lift Truck. Forklift Sales, Service, and Support from Fallsway.
Downloads
EPC3000-EP4000 Information Brochure
A POWERFUL SOLUTION
Maximum Performance: Shift After Shift. The CAT Small Electric Pneumatic Forklift Series (EPC3000 - EP4000) is designed for efficiency and performance with a max lifting capacity of 3,000 - 4,000 lbs. Featuring advanced AC technology, this series offers longer run times - up to two shifts on one battery charge - for greater operator productivity.
ADVANTAGES TO YOU
Flexible use, indoors and out – with the ability to lift up to 4,000 lbs.
Low maintenance – sealed components provide added protection from dust, debris, and moisture.
Zero harmful emissions – electric lift trucks offer a cleaner working environment and eliminate fuel costs.
Available for Purchase, Lease, Rent!
Have a question? Contact us today!
Equipment Information Request