CAT Mid-Size Electric Cushion Forklift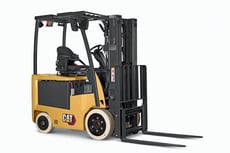 Name
CAT Mid-Size Electric Cushion Forklift
Featured Image


Link
/cat-ec23n-ec30ln
Fuel Type
Electric

Application
Warehouse

Tires
Cushion

Lift Capacity
4,001 - 6,000
6,001 - 8,000

Brand
CAT

Content

Tough, reliable, and made for your operation

The CAT EC23N-EC30LN 4,500 - 6,500lb capacity electric cushion tire forklift has the power to tackle your toughest jobs and gives your operators the ability to maximize productivity.

Key Advantages for You:

Impressively low energy consumption
Options available for convenient battery extraction
Protected against dust and water
Precise load handling and fast lift speeds
Compact design improving maneuverability
Zero hydrocarbon emissions

Extended service intervals of

500-hours
World-class service and support from Fallsway, your experienced Cat, Mitsubishi, and Jungheinrich lift truck dealer

Available for Purchase, Lease, Rent!

Have a question? Contact us today!

Form

Meta Description
3,000 - 4,000 lb capacity electric cushion tire forklifts from CAT Lift Trucks. Fallsway is your local forklift dealer offering sales, service, and support.
Downloads
CAT EC23N - EC30LN Information Brochure
Tough, reliable, and made for your operation
The CAT EC23N-EC30LN 4,500 - 6,500lb capacity electric cushion tire forklift has the power to tackle your toughest jobs and gives your operators the ability to maximize productivity.
Key Advantages for You:
Impressively low energy consumption
Options available for convenient battery extraction
Protected against dust and water
Precise load handling and fast lift speeds
Compact design improving maneuverability
Zero hydrocarbon emissions

Extended service intervals of

500-hours
World-class service and support from Fallsway, your experienced Cat, Mitsubishi, and Jungheinrich lift truck dealer
Available for Purchase, Lease, Rent!
Have a question? Contact us today!
Equipment Information Request