CAT Small Electric Cushion Forklift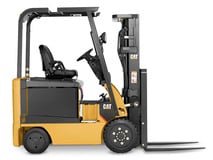 Name
CAT Small Electric Cushion Forklift
Featured Image


Link
/cat-ec15n-ec18ln
Fuel Type
Electric

Application
Warehouse

Tires
Cushion

Lift Capacity
2,000 - 4,000

Brand
CAT

Content

The Small Electric Cushion Tire Forklift (EC15N-EC18LN) from CAT Lift Trucks has a max lift capacity of 3,000 - 4,000 lbs.

Made for your operation, the CAT EC15N-EC18LN combines the latest AC technology and operator ergonomics. Power, comfort, and precision like you have never seen before, increasing the productivity of your operation and the job-satisfaction of your operators.

Key Advantages for you:

Runs up to two shifts (16 hours) on one battery charge!
Convenient battery extraction
Controllers, display, and motors are protected against water and dust
Fast lift speeds while providing precise load handling
Compact design for easy maneuvering in tight spaces
Zero hydrocarbon emissions
500-hour extended service intervals
Industry-leading service and support from Fallsway Equipment Company, your local CAT Lift Truck Dealer

Available for Purchase, Lease, Demo, and Rent!

Have a question? Contact us today!

Form

Meta Description
3,000 - 4,000 lb. capacity electric cushion tire forklift from CAT Lift Trucks. Forklift sales, service, and support from Fallsway Equipment.
Downloads
CAT EC15N - EC18LN Information Brochure
The Small Electric Cushion Tire Forklift (EC15N-EC18LN) from CAT Lift Trucks has a max lift capacity of 3,000 - 4,000 lbs.
Made for your operation, the CAT EC15N-EC18LN combines the latest AC technology and operator ergonomics. Power, comfort, and precision like you have never seen before, increasing the productivity of your operation and the job-satisfaction of your operators.
Key Advantages for you:
Runs up to two shifts (16 hours) on one battery charge!
Convenient battery extraction
Controllers, display, and motors are protected against water and dust
Fast lift speeds while providing precise load handling
Compact design for easy maneuvering in tight spaces
Zero hydrocarbon emissions
500-hour extended service intervals
Industry-leading service and support from Fallsway Equipment Company, your local CAT Lift Truck Dealer
Available for Purchase, Lease, Demo, and Rent!
Have a question? Contact us today!
Equipment Information Request