CAT Large Diesel Pneumatic Forklift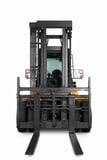 Name
CAT Large Diesel Pneumatic Forklift
Featured Image


Link
/cat-dp100n2-dp160n2
Fuel Type
Diesel

Application
Rough-Terrain
Indoor & Outdoor

Tires
Pneumatic

Lift Capacity
20,001 - 30,000
30,001 - 40,000

Brand
CAT

Content

The CAT Large Diesel Pneumatic Forklift (DP100N2-DP160N2 Series) has a max lift capacity of 22,000 - 36,000 lbs.

TRUE STRENGTH, COMES FROM THE INSIDE

Built With Your Business In Mind.
The Cat® DP100N2-DP160N2 pneumatic tire lift truck series provides optimum power and reliability to tackle some of the toughest material handling applications. Equipped with a high-performance, twin turbo Perkins™ 1204F 4.4L engine, this series offers increased fuel efficiency, reduced emissions, and a lower overall operating cost.

KEY APPLICATIONS

Lumberyards and sawmills
Steel and pipe
Fabricated metals and foundries
Concrete, stone, clay, and glass
Industrial machinery and equipment

Available for Purchase, Lease, Rent!

Have a question? Contact us today!

Form

Meta Description
22,000 - 36,000 lb. capacity internal combustion pneumatic tire forklifts from CAT Lift Trucks. Fallsway is your local forklift solutions provider, offering sales, service, parts, and rentals.
Downloads
DP100N2/DP160N2 Information Brochure
The CAT Large Diesel Pneumatic Forklift (DP100N2-DP160N2 Series) has a max lift capacity of 22,000 - 36,000 lbs.
TRUE STRENGTH, COMES FROM THE INSIDE
Built With Your Business In Mind.
The Cat® DP100N2-DP160N2 pneumatic tire lift truck series provides optimum power and reliability to tackle some of the toughest material handling applications. Equipped with a high-performance, twin turbo Perkins™ 1204F 4.4L engine, this series offers increased fuel efficiency, reduced emissions, and a lower overall operating cost.
KEY APPLICATIONS
Lumberyards and sawmills
Steel and pipe
Fabricated metals and foundries
Concrete, stone, clay, and glass
Industrial machinery and equipment
Available for Purchase, Lease, Rent!
Have a question? Contact us today!
Equipment Information Request