CAT 3-Wheel Electric Pneumatic Forklift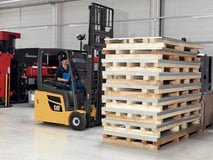 Name
CAT 3-Wheel Electric Pneumatic Forklift
Featured Image


Link
/cat-2et2500-2et4000
Fuel Type
Electric

Application
Warehouse
Indoor & Outdoor

Tires
Pneumatic

Lift Capacity
2,000 - 4,000

Brand
CAT

Content

The CAT 2ET2500 - 2ET4000 Series is a 2,500 - 4,000 lb. capacity 3-wheel electric pneumatic forklift.

MAJOR POWER, MAJOR EFFICIENCY

Combing the latest in operator ergonomics and advanced AC control, the Cat® 2ET2500-2ET4000 series of three-wheel electric lift trucks provides maximum power and performance in a variety of applications.

ADVANTAGES TO YOU

Convenient battery and extraction access options.
Low energy consumption – runs up to two shifts on one battery charge.*
Sealed systems, including IP54-rated motors, provide added protection against dust, moisture and other debris to take on tough applications.

KEY INDUSTRIES

Cold Storage
Food Processing
Grocery
Warehousing
Wholesale Trade

Available for Purchase, Lease, Rent!

Have a question? Contact us today!

Form

Meta Description
2,500 - 4,000 lb. capacity electric pneumatic tire lift trucks from CAT Lift Trucks. Located in Akron, Fallsway serves 22 counties across Ohio , PA, and WV.
Downloads
CAT 2ET2500 - 2ET4000 Information Brochure
The CAT 2ET2500 - 2ET4000 Series is a 2,500 - 4,000 lb. capacity 3-wheel electric pneumatic forklift.
MAJOR POWER, MAJOR EFFICIENCY
Combing the latest in operator ergonomics and advanced AC control, the Cat® 2ET2500-2ET4000 series of three-wheel electric lift trucks provides maximum power and performance in a variety of applications.
ADVANTAGES TO YOU
Convenient battery and extraction access options.
Low energy consumption – runs up to two shifts on one battery charge.*
Sealed systems, including IP54-rated motors, provide added protection against dust, moisture and other debris to take on tough applications.
KEY INDUSTRIES
Cold Storage
Food Processing
Grocery
Warehousing
Wholesale Trade
Available for Purchase, Lease, Rent!
Have a question? Contact us today!
Equipment Information Request