CAT Mid-Size Electric Pneumatic Forklift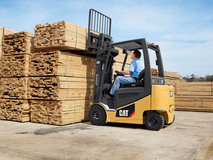 Name
CAT Mid-Size Electric Pneumatic Forklift
Featured Image


Link
/cat-2epc5000-2ep6500
Fuel Type
Electric

Application
Indoor & Outdoor

Tires
Pneumatic

Lift Capacity
4,001 - 6,000
6,001 - 8,000

Brand
CAT

Content

Mid-Size Electric Pneumatic Forklifts from CAT Lift Trucks range from 5,000 - 6,500 lb. capacity.

Comfort, From The First Hour to The Last!

Built to tackle applications both indoors and out, the 2EPC5000-2EP6500 series is equipped to keep your operators comfortable and in control, night after night.

TOTAL CONTROL

Your operators will enjoy this lift truck's wide degree of control and its quiet, comfortable ride.

Fingertip hydraulic controls – integrated directly into the armrest, these controls deliver low effort handling and precise control. For added convenience, the travel direction switch and horn are incorporated into the armrest for one-touch access during operation.
One-touch / two-axis armrest – allows upand- down and fore-and-aft adjustment plus the ability to adjust the surface angle to optimize comfort for operators and minimize fatigue.
Storage compartment – includes USB power port, useful for charging mobile devices, and is large enough to hold small tools, writing instruments, keys and other personal items.
Advanced Curve Control technology – automatically reduces travel speed when turning, providing added security for the operator and the load.
Operator presence detection system – automatically disengages the hydraulic controls and sets the parking brake when the operator is not in the proper operating position.

Available for Purchase, Lease, Rent, or Demo!

Have a question? Contact us today!

Form

Meta Description
5,000 - 6,500 lb. capacity electric pneumatic tire forklifts from CAT Lift Trucks. Available for sale, rent, or demo from Fallsway Equipment.
Downloads
2EPC5000-2EP6500 Information Brochure
Mid-Size Electric Pneumatic Forklifts from CAT Lift Trucks range from 5,000 - 6,500 lb. capacity.
Comfort, From The First Hour to The Last!
Built to tackle applications both indoors and out, the 2EPC5000-2EP6500 series is equipped to keep your operators comfortable and in control, night after night.
TOTAL CONTROL
Your operators will enjoy this lift truck's wide degree of control and its quiet, comfortable ride.
Fingertip hydraulic controls – integrated directly into the armrest, these controls deliver low effort handling and precise control. For added convenience, the travel direction switch and horn are incorporated into the armrest for one-touch access during operation.
One-touch / two-axis armrest – allows upand- down and fore-and-aft adjustment plus the ability to adjust the surface angle to optimize comfort for operators and minimize fatigue.
Storage compartment – includes USB power port, useful for charging mobile devices, and is large enough to hold small tools, writing instruments, keys and other personal items.
Advanced Curve Control technology – automatically reduces travel speed when turning, providing added security for the operator and the load.
Operator presence detection system – automatically disengages the hydraulic controls and sets the parking brake when the operator is not in the proper operating position.
Available for Purchase, Lease, Rent, or Demo!
Have a question? Contact us today!
Equipment Information Request