CAT Small IC Cushion Forklift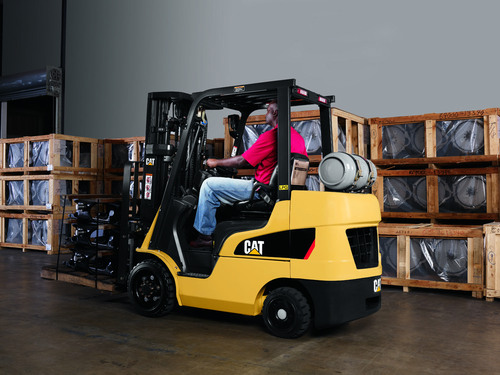 Name
CAT Small IC Cushion Forklift
Featured Image


Link
/cat-2c3000-2c6500
Fuel Type
LP Gas

Application
Warehouse

Tires
Cushion

Lift Capacity
2,000 - 4,000
4,001 - 6,000
6,001 - 8,000

Brand
CAT

Content

A Truck You Can Depend On!

The CAT 2C3000-2C6500 is a 3,000-6,500 lb. LP gas, cushion tire series that offers what your business demands: fuel economy, performance, reliability, and superior operator control. This machine is built for dependability and can operate in a wide range of indoor applications to move goods, stage pallets, or transfer loads. Enjoy total control and performance tailored to your operation.

Available for Purchase, Lease, Rent, or Demo! Fallsway proudly represents CAT Lift Trucks Ohio (from Akron, Canton, Youngstown, Medina, and Ashland, to New Philadelphia) Pennsylvania (Mercer and Lawrence County) and West Virginia (Hancock and Brooke County)

Have a question? Contact us today!

Form

Meta Description
3,000 - 6,500 lb. capacity internal combustion LP cushion tire forklift from CAT Lift Trucks. Sales, Service, and Support from Fallsway Equipment Company.
Downloads
2C3000-2C6500 Information Brochure
A Truck You Can Depend On!
The CAT 2C3000-2C6500 is a 3,000-6,500 lb. LP gas, cushion tire series that offers what your business demands: fuel economy, performance, reliability, and superior operator control. This machine is built for dependability and can operate in a wide range of indoor applications to move goods, stage pallets, or transfer loads. Enjoy total control and performance tailored to your operation.
Available for Purchase, Lease, Rent, or Demo! Fallsway proudly represents CAT Lift Trucks Ohio (from Akron, Canton, Youngstown, Medina, and Ashland, to New Philadelphia) Pennsylvania (Mercer and Lawrence County) and West Virginia (Hancock and Brooke County)
Have a question? Contact us today!
Equipment Information Request