Anthony Conventional Lift Gates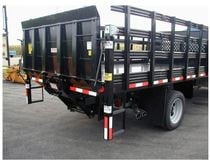 Name
Anthony Conventional Lift Gates
Featured Image


Link
/anthony-conventional-lift-gates
Make
Anthony

Gate Type
Conventional Gates
Content

A popular choice for stake bed trucks, the Conventional Series from Anthony Liftgates is commonly used in construction and landscaping applications. Enjoy a 2-year warranty and capacities ranging from 1,600 lbs to 2,500 lbs. Conventional gates stow upright at the rear of the vehicle and double as tailages.

Fallsway upfits Anthony Liftgates, including the Conventional Series, to your specific needs at our state-of-the-art truck equipment facility in Akron, Ohio. Serving Ohio, Michigan, Pennsylvania, and Kentucky, take advantage of our industry-leading knowledge and resources. We look forward to working with you!

Have a question? Contact us today!

Form

Meta Description
A popular choice for stake bed trucks, the Conventional Series lift gate from Anthony stows vertically at the rear of the vehicle.
Downloads
Anthony Liftgates Conventional Series Brochure
A popular choice for stake bed trucks, the Conventional Series from Anthony Liftgates is commonly used in construction and landscaping applications. Enjoy a 2-year warranty and capacities ranging from 1,600 lbs to 2,500 lbs. Conventional gates stow upright at the rear of the vehicle and double as tailages.
Fallsway upfits Anthony Liftgates, including the Conventional Series, to your specific needs at our state-of-the-art truck equipment facility in Akron, Ohio. Serving Ohio, Michigan, Pennsylvania, and Kentucky, take advantage of our industry-leading knowledge and resources. We look forward to working with you!
Have a question? Contact us today!
Equipment Information Request