50/60-Ton Jerr-Dan JFB Rotator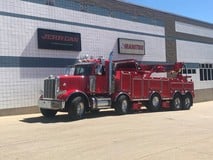 Name
50/60-Ton Jerr-Dan JFB Rotator
Featured Image


Link
/50-60-ton-jfb-rotator
Condition
New
Duty
Heavy-Duty

Towing Capacity
50/60 Tons

Material
Steel

Content

Looking to take your towing and recovery operation to the next level? Whether you are looking to expand your business or stand-out from the competition, the Jerr-Dan 50/60-Ton JFB Rotator might just be perfect. Enjoy:

Independently Rubber Shock Mounted

Aluminum Roll-Up Doors with Painted or Brushed Finish

LED Interior Compartment & DOT Lighting

26 Additional LED Side Marker Lights

4 Additional Amber Side Strobes

Anti-Slip Top Surfaces with LED Lighted Steps and Grab Handles

Wide Variety of Tool Management Systems

Incident Management Equipment Kits and Storage Solutions

264 in. C.T.

The 50/60-Ton JFB Rotator from Jerr-Dan, simply put, is impressive. Combining heavy-duty capabilities, superior stabilizing technology, commanding rotation, unsurpassed pulling capacity, and unstoppable power, this is a tow truck you have to see in action to believe it. Perfectly located in Akron, Ohio, Fallsway is one of the biggest Jerr-Dan dealers in the area.

Have a question? Contact us today!

Form

Meta Description
Jerr-Dan 50/60 Ton JFB Rotator | Storage, Power, Lift, and Reach
Downloads
Looking to take your towing and recovery operation to the next level? Whether you are looking to expand your business or stand-out from the competition, the Jerr-Dan 50/60-Ton JFB Rotator might just be perfect. Enjoy:
Independently Rubber Shock Mounted

Aluminum Roll-Up Doors with Painted or Brushed Finish

LED Interior Compartment & DOT Lighting

26 Additional LED Side Marker Lights

4 Additional Amber Side Strobes

Anti-Slip Top Surfaces with LED Lighted Steps and Grab Handles

Wide Variety of Tool Management Systems

Incident Management Equipment Kits and Storage Solutions

264 in. C.T.
The 50/60-Ton JFB Rotator from Jerr-Dan, simply put, is impressive. Combining heavy-duty capabilities, superior stabilizing technology, commanding rotation, unsurpassed pulling capacity, and unstoppable power, this is a tow truck you have to see in action to believe it. Perfectly located in Akron, Ohio, Fallsway is one of the biggest Jerr-Dan dealers in the area.
Have a question? Contact us today!
Equipment Information Request